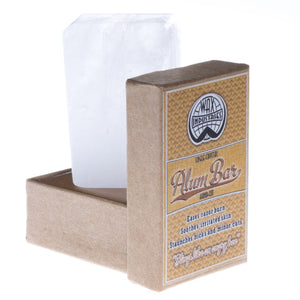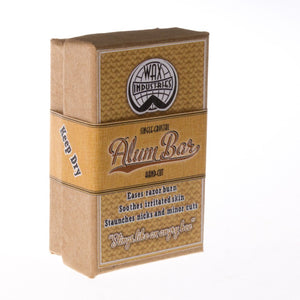 Alum Bar - The perfect gentleman's companion: heals and freshens!
Wax Industries Alum Bar: for shaving nicks & body deodorant
THE WAX INDUSTRIES ALUM BAR
75g HAND-CUT CRYSTAL
Compact size but lasts way longer than cheap compressed-powder bars.
Ideal size for face, pits and bits!
TESTED ON GENTLEMEN, NOT ANIMALS


Highly astringent - closes pores and staunches nicks and minor cuts.
Made of smooth, single-crystal potassium alum.
Use as an after-shave rub, to tighten and clean skin.
Antiseptic and anti-bacterial; rub on armpits and hairy chests after showering for all-day freshness.
Feels better in use and lasts longer than inferior, compressed powder bars.
Regular use combats greasy skin, spots and blemishes.
FAQs
What makes Wax Industries Alum Bars different from many cheaper versions?
Unlike some bars, which are made from compressed alum powder, ours are made from solid crystal, cut to size. They wear slower, are more compact and are simply superior to their inferiors!
Does it really sting like an angry bee? 
Oh, yes indeed, if used for closing the various cuts and nicks of careless shaving. Bleeding is stopped due to the alum's astringent properties. However, this stings a little as it works. Who said being a man was going to be easy? You will learn to love it or die trying. 
Can I drop it on hard bathroom floors, down coalmines, etc.?
You can if you want but the bar will shatter into countless pieces - alum crystals are brittle. However, with care it will last you many months, even if used for rubbing on hairy parts of the body for deodorising.